Contact Details
Phone: 03 5862 1144
Address:
Corner of Nelson St & Orchard St,
Numurkah VIC 3636
Mail:
PO BOX 211,
Numurkah VIC 3636
sales@ndservices.com.au

---
20% off Labour Costs, Six FREE After Hours Callouts & receive a full shed set of Inflations* for FREE?

TOO GOOD TO BE TRUE??
Call Gavin Banko, NDServices Farm Plant & Dairy Hygiene Specialist, for more information.
With 15 years experience in dairy hygiene, Gavin can help you resolve your plant hygiene issues & deliver (free of charge) the right dairy detergents, teat spray etc to suit your dairy. Phone Gavin on 0428 293 401.
*Free Shed Set of liners are subject to availability.
---
Welcome to NDServices
Golly (Peter) & Marg Keane began Northern Dairy Services in 1993, now NDServices, to service & supply quality dairy equipment everywhere.
With clients as far afield as Tasmania & South Australia, NDServices continue to supply, install &/or service dairy equipment, feed systems & effluent handling equipment to the dairy industry; feed ration mixing & transfer equipment to the dairy, pig and equine industries as well as equipment into grain milling & rabbit rearing industries.
NDServices is proudly family owned & operated. Moving into the future with the next generation; with Michael & his family, who are continuing the tradition of quality customer service & quality products.
Michael is a fully qualified Refrigeration Mechanic with a Certificate III in Engineering - Mechanical Trade (Refrigeration & Air Conditioning).
As such NDServices now supply, install & service Industrial & Commercial Refrigeration, Household & Commercial Split Systems, Effluent Handling Equipment, Pressure Pumps, Bore Pumps & Hot Water Units.
NDServices' experienced team has a commitment to providing excellent service & the best possible solutions when it comes to your domestic, farm, commercial or industrial needs.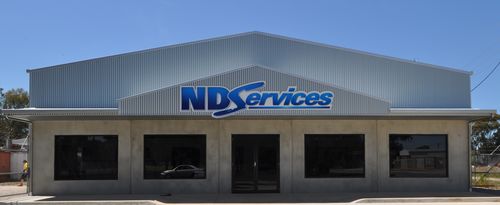 Refrigeration Authorisation Number AU21759